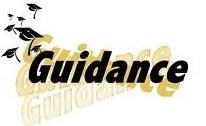 Main Number: 401-268-6240
Ms. Rosemarie Florenz, Guidance Clerk
Fax Number: 401-268-6220
CEEB Code: 400088
Welcome to the 2021-2022 School Year!
2021/2022 School Counselor Caseloads
CANVAS CLASSROOMS FOR EACH GRADE LEVEL
Each grade has a designated Guidance canvas page where important information is posted regularly.
LEVEL CHANGES
Level change requests must be submitted in writing to the student's school counselor by October 6. All level changes must occur by November 9. In order for a level change to be approved all possible avenues for success must be attempted which includes completing all assignments and seeking out extra help from the teacher. Please see Page 16 of the Program of Studies for more details.
College Visits
Approximately 75 admissions representatives from colleges/universities across the country will be visiting NKHS to meet with students interested in their schools. Some of the visits will be in-person and some will be virtual. Below is a link to view the calendar of the visits. Juniors and Seniors should sign up for the visits in the Guidance Office by the day before the visit. If a visit is scheduled during a student's class time, the student must ask the teacher for permission to attend the college visit.
Virtual Senior Parent and Financial Aid Night - Thursday, September 23, 2021
6:30 - 7:00 - School counselors will review the college application process and answer questions.
7:00 - 8:00 - A representative from the College Planning Center of RI will present information about financial aid and answer questions.