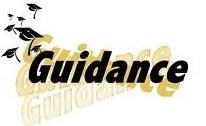 Main Number: 401-268-6240
Ms. Rosemarie Florenz, Guidance Clerk
Fax Number: 401-268-6220
CEEB Code: 400088
Welcome to the 2022-2023 School Year!
2022/2023 School Counselor Caseloads
CANVAS CLASSROOMS FOR EACH GRADE LEVEL
Each grade has a designated Guidance canvas page where important information is posted regularly.
LEVEL CHANGES
Level change requests must be submitted in writing to the student's school counselor by October 6. All level changes must occur by November 9. In order for a level change to be approved all possible avenues for success must be attempted which includes completing all assignments and seeking out extra help from the teacher. Please see Page 16 of the Program of Studies for more details.
Seniors and Senior Families
Below are the links to the recording from the Senior Information/Financial Aid Session and the slides used that night and during our visits to Senior English classes this week.
Please don't hesitate to reach out to your senior's school counselor with any questions.
Recording of Monday night presentation
Guidance slides from Monday night presentation
College Planning Center of RI slides on Financial Aid
Slides used during Senior English Class visits
RIAAO College Fair
The Rhode Island Association of Admission Officers (RIAAO) is sponsoring the 45th Annual Regional College Fair. The fair is free to attend and free parking is available.
Date: Sunday, September 25, 2022
Time: 11:15 am – 1:00 pm
Location: Bryant University in Chace Athletic Center-Multipurpose Activity Center (MAC), 1150 Douglas Pike, Smithfield, RI 02917
Strive Scan will be used to eliminate the need to fill out paper inquiry cards thus limiting time spent at each table and the need to share pens. You are encouraged to pre-register for this event. Once registered, you will receive a barcode that will be scanned at each table you visit. Attendees can register the morning of the event, but registering prior to the event will allow you to have more time to visit tables of interest. Register here: https://app.strivescan.com/registration. (Event Location: Rhode Island. Event Attending: 9/25/22 Bryant University Rhode Island Association of Admission Officers (RIAAO) College Fair. You will be prompted to select "Student", "Parents", or "Counselors/Professionals.")
Should you have any questions, please email RIAAOcollegefair@gmail.com.
College Visits
Approximately 75 admissions representatives from colleges/universities across the country will be visiting NKHS to meet with students interested in their schools. Some of the visits will be in-person and some will be virtual. Below is a link to view the calendar of the visits. Juniors and Seniors should sign up for the visits in the Guidance Office by the day before the visit. If a visit is scheduled during a student's class time, the student must ask the teacher for permission to attend the college visit.
Scholarships
Please check our Scholarship Doc for updated Scholarship information.
Check back often as Scholarships are continually added throughout the school year.
Heisman High School Scholarship
Due Date: October 18, 2022
The Heisman High School Scholarship is proud to continue its 28-year tradition of honoring the nation's most esteemed high school seniors and supporting high school academic and athletic programs across the country. The program recognizes and rewards male and female high school seniors who accomplish tremendous feats in the classroom, on the field, and most importantly, within their communities. Winning a Heisman High School Scholarship requires a weighted GPA of 3.0 or better, participation in at least one sport, and demonstrated leadership at school and in the community.
VFW Voice of Democracy Scholarship

"Established in 1947, the Veterans of Foreign Wars Voice of Democracy audio-essay program provides high school students with the unique opportunity to express themselves in a democratic and patriotic-themed recorded essay. Each year, nearly 25,000 9-12 grade students from across the country enter to win their share of more than $2 million in educational scholarships and incentives awarded through the program.
The national first place winner receives a $35,000 scholarship paid directly to the recipient's American university, college or vocational/technical school. Rules and eligibility information as well as entry forms are available at:
https://www.vfw.org/community/youth-and-education/youth-scholarships
Students in the local area can enter by submitting an audio recording (cell phone voice memo), typed transcription of the audio essay (pdf file), and completed entry form (pdf file) to VFW Post 9447, Jamestown RI. All digital files must be named with applicant's firstname_lastname (NOTE: the body of audio recording & typed essay should NOT contain the applicant's name--identifying information should only appear in the filenames and entry form), uploaded to Google Drive, and shared with Post9447.VFW@gmail.com NLT midnight October 31, 2022. Direct questions to VFW Post 9447 Commander, Mark Swistak, at 401-741-4670 or mark.w.swistak.sr@nm.com."